Nose Fillers seem to be the rage right now. The idea of a temporary non-surgical rhinoplasty via fillers is exciting on paper.  In theory, wouldn't it be nice to just pop into a clinic during your lunchtime and walk out with a "new" nose? Who wouldn't want to alter their nose without the commitment and cost of rhinoplasty? However, there are some inherent issues with nose fillers when compared to rhinoplasty. While a non-surgical rhinoplasty may be a good choice for some people, the traditional surgical rhinoplasty procedure is the overall best choice for those who want effective, permanent and safe results. This post will compare nose fillers vs rhinoplasty so you can make the best choice for you.
NOSE FILLERS VS RHINOPLASTY
THE PROS & CONS
Nose Fillers vs Rhinoplasty
Non-surgical rhinoplasty or Nose Fillers is a cosmetic procedure where a doctor injects a filler into the nose to make a subtle change to the look of the nose. A surgeon injects  Juvederm, Artefill, Restylane or Radiesse into the nose to temporarily augment it. These nose fillers reshape the nose, adds volume to the nose and give instant results. Nose Fillers also correct aesthetic imperfections of the nose like hollowness, dents, and bumps on their nose. It is a temporary corrective treatment.
Rhinoplasty is a procedure that is functional and aesthetical in its nature. It corrects the look of the nose and can restore some nasal functionality. However, many people decide to get rhinoplasty for aesthetic reasons. Rhinoplasty is a permanent solution.

Pros & Cons of Nose Fillers vs Rhinoplasty
Cost
Nose Fillers are more cost-friendly than a rhinoplasty procedure. Since nose fillers are a temporary solution, they do not cost as much as a rhinoplasty. If you are price conscious, this may be a great solution for your needs as it won't break the bank. Although the initial price tag for nose fillers are more favorable than traditional rhinoplasty, remember in the long run it may end up costing you more if you want to keep the results. In addition, if you opt for a permanent filler like Artefill, it is more expensive.
Results
As mentioned previously, nose fillers can augment parts of the nose such as nose bridge and can provide volume to the nose. However, a doctor can't use a nose filler to build a nose tip. Nose Fillers are not effective for tip projection. 
Downtime
There is no downtime associated with nose fillers. As is the case with most "lunch-time" procedures, it can take approximately 15 minutes with little or no pain. As a result, there is no downtime and you can continue with your daily activities. Even though you may experience some swelling, redness or bruising, usually it is very minimal

.
Duration
Nose Fillers are great for those who want to try out the look of a new nose without doing a traditional rhinoplasty and they are reversible. You will be able to see what your new lose looks like.  However, you should note that it can be very difficult to remove all traces of a filler.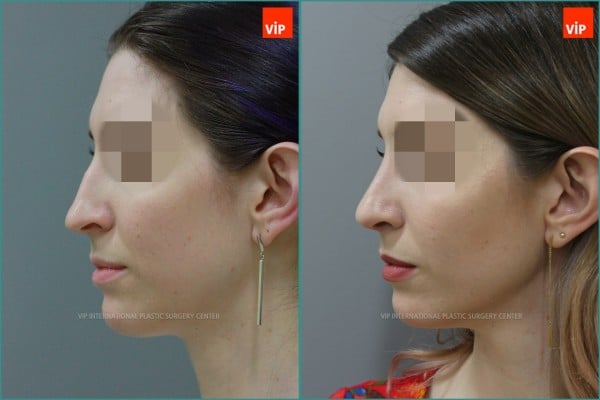 Pros of Rhinoplasty
With a rhinoplasty procedure, the pros far outweigh the cons.
Functional Benefit
Unlike a nose filler, a rhinoplasty procedure can be used to correct defects such as deviated septum and breathing issues.  If a surgeon performs a septoplasty, a patient will have an easier time breathing due to increased airflow. Additionally, chronic sinusitis can also be healed. 
No Limitations
A rhinoplasty has very little limitations. Unlike a nose filler, a surgeon can structure the whole nose: bridge, structure, and tip. A skilled surgeon can lengthen the nose bridge, decrease the width of the nose, project the tip, reduce the size of the nostrils etc. permanently.
Safety
A skilled surgeon can use a variety of materials to build the nose.  Silicone implant, ear cartilage, septal cartilage and/or rib cartilage can be used. Since the latter three are autologous (from your own body) tissues, it is extremely safe.  
Results
Although nose fillers provide instant results, rhinoplasty results can be seen much later. It takes approximately 2 weeks for the swelling to subside and about a few months to see the final results. Although a traditional rhinoplasty requires more downtime and is an invasive procedure, the pros far outweigh the cons.
Remember that only a skilled plastic surgeon should perform nose fillers or a rhinoplasty.  To find out more why and how we excel at rhinoplasty, contact us! 
---
 VIP Plastic Surgery Center Korea
www.vippskorea.com
Email: vipps@vipps.kr
Whatsapp / Kakao: +82 10-5059-6626
RealSelf Patient Reviews of Myung Ju Lee, MD, PhD